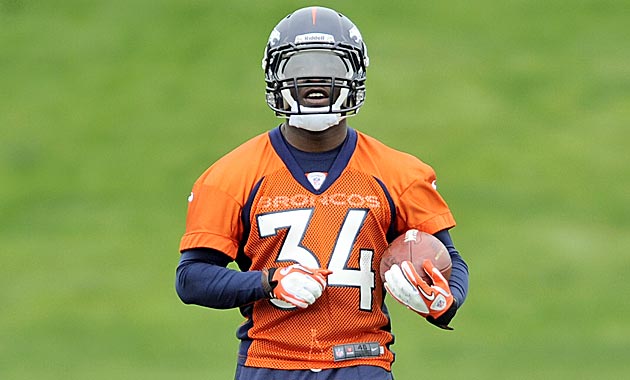 For those that haven't heard, Ronnie Hillman has been making quite the noise in training camp thus far. Broncotalk.net said Hillman was the best RB on Day Four of training camp, showing off the slithering moves that made him an impact player at San Diego State. Even though Lance Ball has been receiving first team reps when Willis McGahee hasn't due to injury, Hillman is more of a threat to supplant McGahee as a starting running back than Ball or any other running back on Denver's roster.
Although Hillman doesn't have ideal size for a RB in John Fox's system at 5'10" and 190 pounds, Hillman is a home run threat at running back. When you look at Denver's running backs with large amounts of experience in the NFL – that being Knowshon Moreno, Ball and McGahee – neither of the three have true big play ability amongst the three when it pertains to running the football. Moreno is a mediocre running threat. Through three years of his career, he's run for six touchdowns and the longest run of his career is 45 yards. Ball is best used as a third-down specialist in passing situations due to his ability to pass protect and catch the ball out of the backfield. McGahee will be 31 years of age in October, and despite his statistically productive 2011 season, hasn't been a big play threat in years due to numerous surgeries relating to ACL, PCL and MCL injuries suffered early on his career.
Hillman's strengths are his speed, and his ability to accelerate through holes at the line of scrimmage. Although he isn't known for his power. it has yet to be a detriment to his career thus far. Even if he does have trouble pushing piles at his size, McGahee has always been known as a legit short-yardage threat. In fact, after McGahee lost his starting job in Baltimore in 2008 to Le'Ron McClain, McGahee was still used as Baltimore's short-yardage back.
His weaknesses are in pass protection due to his small stature and his lack of receiving abilities. However, this is where a guy like Ball, Moreno or Jeremiah Johnson and Xavier Oman can come into play. If the Broncos are in third-and-long situations, you simply bring in one of the aforementioned names.
Peyton Manning is the starting quarterback of this team, which means several things. One of them is that Denver won't need an elite rushing attack in order to make it to the postseason in 2012. Manning carried numerous Indianapolis teams to the postseason without a semblance of a running game. If the Broncos manage to become an above average running team, say, in the top 12, the Broncos offense will be set.
The second meaning behind Manning starting at quarterback is the use of the delayed hand off. The Broncos will run a lot of HB Draws. Manning ran this rather frequently in Indianapolis due to defenses playing the pass and playing off of the line of scrimmage. Manning would often be audible out of the designed pass play and into designed HB Draws to take the defense off guard. A running back who is shifty and fast is best qualified to be Manning's backfield mate. That would be none other than Hillman.
This also goes hand-in-hand with the HB stretch play. Manning's offenses have run this play often too, when defenses stack up too much to one side of the field or just stack up too far off of the line of scrimmage period. On the HB stretch play, you're depending upon your running back to utilize speed to outrun the opposing defenses to one side of the field, whether that be the right or left side of the field. McGahee is not a running back suited to this style of play – Hillman is. McGahee is a power back that is best utilized when initiating contact.
If this Broncos offense was again spearheaded by the talents of Tim Tebow, McGahee would be argued as the better running mate for the Broncos' quarterback. It just so happens to be that the Broncos now have the talents of Peyton Manning, and the read-option offense is gone. Due to Manning being quarterback amongst many other reasons, the Broncos' offense will best suit Ronnie Hillman's strengths, rather than Willis McGahee's strengths in 2012.
Hillman will end up as Denver's go-to running back before the season ends, if not by mid-season.
Tags:
Denver
,
Denver Broncos
,
Football
,
Jeremiah Johnson
,
Knowshon Moreno
,
Lance Ball
,
Le'Ron McClain
,
NFL
,
Peyton Manning
,
Ronnie Hillman
,
Tim Tebow
,
Training Camp
,
Willis McGahee
,
Xavier Oman