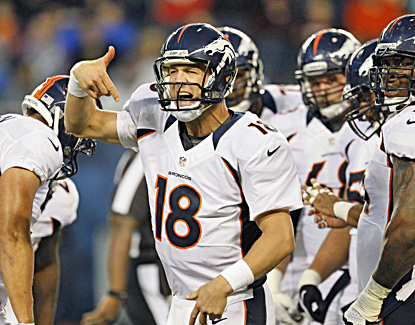 Here was Peyton Manning's final stat line by the end of the Broncos' first preseason game in Chicago: 4/7 for 44 yards, 1 interception and a 36.3 passer rating.
If you read that stat line without watching the game last night, you'd think that Manning had an off game. In fact, you'd probably think he had a terrible game.
From watching the tape, Manning did look a bit rusty. There was one play on his second pass attempt which was intended for Jacob Tamme that was just a terrible throw. The Bears' Geno Hayes was right there in pass coverage to pick off the pass, but somehow it went though his hands, as Tamme grabbed it for a 12 yard gain to give the Broncos a first down.
Having said that, outside of that pass, Manning looked sharp. Even on his interception throw which was intended for Brandon Stokley in the red zone, Stokley should have caught the pass. Is it true that it was thrown behind Stokley? Was it a pass that Stokley has usually caught throughout his career. Yes, no doubt about it.
Manning had seven pass attempts, and one of them was a negated completion for a first down to Demaryius Thomas on a comeback route on the left sideline. It was negated because of a holding penalty on Ryan Clady.
On six of his seven passing attempts, Manning lined up in the shotgun formation. He threw two incompletions in this formation. One of them was an accurate throw to Jacob Tamme on an inside slant that was played perfectly by LB Lance Briggs. Good coverage by Briggs negated a completion.
Manning also had an incompletion in the end zone to Demaryius Thomas on a route towards the back of the end zone which was typically run for Marvin Harrison in Indianapolis. It was a good throw that was perfectly placed by Manning. Within time, as Thomas and Manning's chemistry grow together, that will be a touchdown more of than not, as you saw in Indy between Harrison and Manning for so many years. The incompletion was moreso because of a lack of chemistry, rather than a bad throw by Manning.
The most important part of this preseason game was to decipher and analyze how Manning looked. It wasn't the fact that Denver won the game 31-3, it wasn't the fact that Manning's stat line looks bad at first glance.
Although Manning played only one drive, and faced very little pressure, it was a good sign because he looked poised and confident. He looked exactly the way he did in Indianapolis the last time that he played. He looked calmed in the pocket, sidestepped around the pocket to create more time for himself, and stepped into throws for intermediate completions.
On 3rd-and-17, Manning stepped up and completed a 20 yard pass to Eric Decker for a first down to put the Broncos in the red zone.
Doesn't that sound like the Manning of old in Indianapolis?
I'm not saying that Manning is back. I'm not saying that Manning had a great game.
What I'm saying is, Thursday was a step in the right direction for not only Manning, but the Broncos themselves. It was a positive experience, not a negative one.
As Peyton Manning says about his comeback, "Baby steps, not giant leaps."
Tags:
Brandon Stokley
,
Demaryius Thomas
,
Denver
,
Denver Broncos
,
Eric Decker
,
Football
,
Geno Hayes
,
Jacob Tamme
,
Lance Briggs
,
NFL
,
Peyton Manning