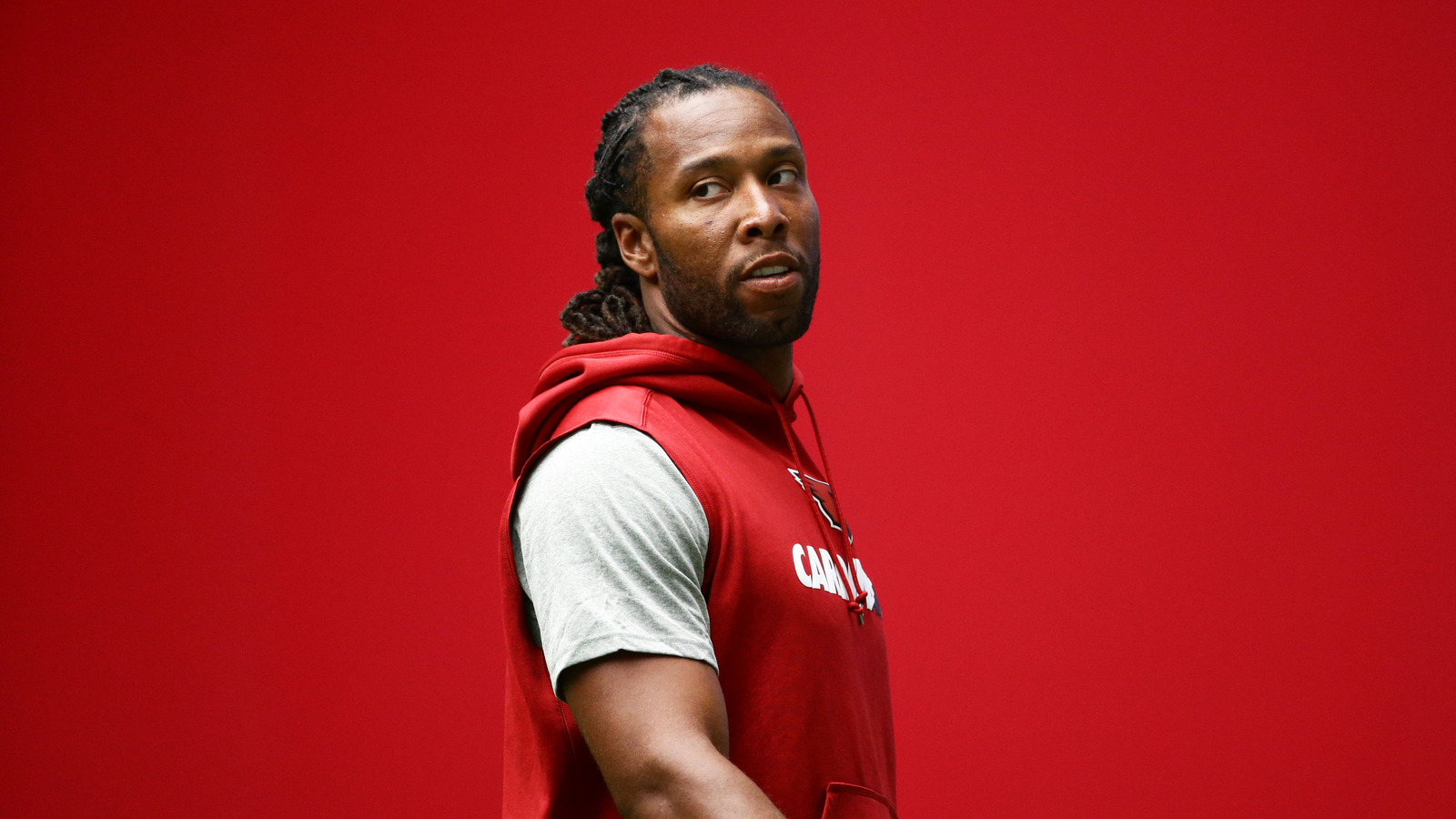 Jul 21, 2017; Glendale, AZ, USA; Arizona Cardinals wide receiver Larry Fitzgerald looks on during the run test on reporting day of training camp at the University of Phoenix Stadium.  Rob Schumacher/azcentral sports via USA TODAY NETWORK
Whether they are Super Bowl contenders or historical laughingstocks, each and every team in the NFL has at least one established player. The established players could come in the form of a future Hall of Fame receiver on the back end of his career such as in Arizona, or a veteran running back on a struggling Jets squad.
From a star receiver in Atlanta who might challenge for career records at some point to multiple veteran tight ends going for records, here is a look at the most established player on each NFL team's roster heading into the 2017 season.
Arizona Cardinals: Larry Fitzgerald, wide receiver
Potentially entering his final NFL season, Fitzgerald is already the franchise's all-time leader in receptions (1,125), receiving yards (14,389) and touchdowns (104). In fact, the Cardinals receiver with the second-most in franchise history is Anquan Boldin with 586. That's simply amazing. Even at 33, Fitzgerald continues to prove his worth. He caught a career-best 107 passes last season.
Atlanta Falcons: Julio Jones, wide receiver
We could have gone with Matt Ryan here, but that would have been too easy. What Jones has done in his first six seasons in the NFL is amazing. He's averaging 83 catches for 1,268 yards and seven touchdowns per year. If Jones keeps at this pace and plays 12 seasons, he would finish with the fourth-most receiving yards in NFL history. With a large sample size, it's definitely not out of the equation to believe that Jones can go down as one of the game's all-time greats.
Baltimore Ravens: Terrell Suggs, EDGE
Six Pro Bowl appearances and 114.5 sacks in 14 seasons. To say that Suggs has been consistently dominant throughout his career would be an understatement. He's led six top-10 defenses, has racked up double-digit sacks six times, and is still going strong at 34 years old. Last year saw Suggs add another eight sacks to his resume. It came just one season after he missed all but one game to an Achilles injury. That's legendary stuff right there.
Buffalo Bills: Kyle Williams, defensive tackle
One of the most underrated players in the game, Williams' unassuming career has been placed on the back burner simply because he plays in western New York. But let's be clear: he's been among the game's best defensive tackles over the past 11 seasons. During that span, Williams has proven his worth against both the run and getting to the quarterback. It's led to five Pro Bowl appearances over the past seven seasons, as the NFL has finally taken note of this dominance.
Carolina Panthers: Cam Newton, quarterback
No one else on the Panthers' roster can lay claim to being named NFL MVP. Only one other quarterback in franchise history can say he's led the team to a Super Bowl. And despite the fact that Newton is just 28 years old, one could conclude he's the best player in Panthers franchise history.
That's aided by the fact that Newton enters the 2017 season having compiled 184 total touchdowns. Jake Delhomme ranks second in franchise history with 123 total touchdowns. Whew.
Chicago Bears: Josh Sitton, guard
Sitton angered a lot of cheeseheads after moving on from Green Bay following eight seasons last summer, though it should be noted that he was released by the Packers. In his first season with Chicago, Sitton earned the fourth Pro Bowl appearance of the career. He was also one of the primary reasons why then rookie Jordan Howard put up over 1,600 total yards en route to earning a trip to the Pro Bowl himself.
Cincinnati Bengals: Geno Atkins, defensive tackle
Five Pro Bowl appearances in seven seasons. A two-time First-Team All-Pro. If Atkins continues at this clip, he's destined for the Hall of Fame. Atkins has put up 20 sacks from the defensive tackle position over the past two seasons. He is among the best pass-rushing interior defensive linemen in the game. And in this, he's the most-established Bengals player heading into a make-or-break season for many on the team.
Cleveland Browns: Joe Thomas, offensive tackle
One of the best to ever play the game. It's sad that Thomas has had to exist on a disastrous Browns team over the course of his career, but his individual accomplishments are nearly unmatched. Here's a guy that has earned a trip to the Pro Bowl in each of his first 10 NFL seasons. During that very same span, Thomas has been named First-Team All-Pro a whopping six times. It's not unrealistic to believe that Thomas will ultimately go down as the greatest left tackle to ever play the game.
Dallas Cowboys: Jason Witten, tight end
Already the Cowboys' career leader in receptions, Witten has a chance to break the franchise's all-time mark in receiving yards and receiving touchdowns this season. In fact, he's 17 yards and nine touchdowns away from eclipsing each mark. The future Hall of Famer has earned 10 trips to the Pro Bowl and has hit the 70-reception plateau seven times in his career. He will go down as one of the best pass-catching tight ends in the history of the game.
Denver Broncos: Von Miller, EDGE
Super Bowl MVP. Potentially looking at a 25-plus sack season at some point soon. There's nothing we can say that actually describes how dominant Miller has been on …
Read Original Post at
http://www.yardbarker.com/nfl/articles/most_established_player_on_each_nfl_team_8217s_roster/s1_12680_24511519

Sports Media 101 searches and spiders for news it aggregates from across the web about your favorite sport or sports team. This article is originally posted at another site not affiliated with Sports Media 101. The portion of the article posted here is to provide a sample of the content available at the linked site. Please click the link to read the full article. Sports Media 101 does not claim any ownership to the content and all rights are retained by the original copyright owner.
Tags:
Aaron Rodgers
,
Alex Smith
,
Andrew Whitworth
,
Anquan Boldin
,
Antonio Gates
,
Arizona Cardinals
,
Atlanta Falcons
,
Baltimore Ravens
,
Ben Roethlisberger
,
Brett Favre
,
Bruce Smith
,
Buffalo Bills
,
Carolina Panthers
,
Carson Wentz
,
Chicago Bears
,
Cincinnati Bengals
,
Cleveland Browns
,
Dallas Cowboys
,
Delanie Walker
,
Denver Broncos
,
DeSean Jackson
,
Detroit Lions
,
Drew Brees
,
Earl Thomas
,
Eli Manning
,
Frank Gore
,
Gale Sayers
,
Green Bay Packers
,
Haloti Ngata
,
Houston Texans
,
Indianapolis Colts
,
J.J. Watt
,
Jacksonville Jaguars
,
Jake Delhomme
,
Jameis Winston
,
Jared Goff
,
Jason Peters
,
Jason Witten
,
Jim Harbaugh
,
Joe Staley
,
Kansas City Chiefs
,
Los Angeles Chargers
,
Los Angeles Rams
,
Mackensie Alexander
,
Marshawn Lynch
,
Miami Dolphins
,
Michigan Wolverines
,
Mike Evans
,
Minnesota Vikings
,
Morehead State Eagles
,
New England Patriots
,
New Orleans Saints
,
New York Giants
,
New York Jets
,
NFL
,
Oakland Raiders
,
Peyton Manning
,
Philadelphia Eagles
,
Pittsburgh Steelers
,
San Francisco 49ers
,
Seattle Seahawks
,
Tampa Bay Buccaneers
,
Tennessee Titans
,
Terence Newman
,
Terrell Suggs
,
Tom Brady
,
Trent Williams
,
Von Miller
,
Washington Redskins