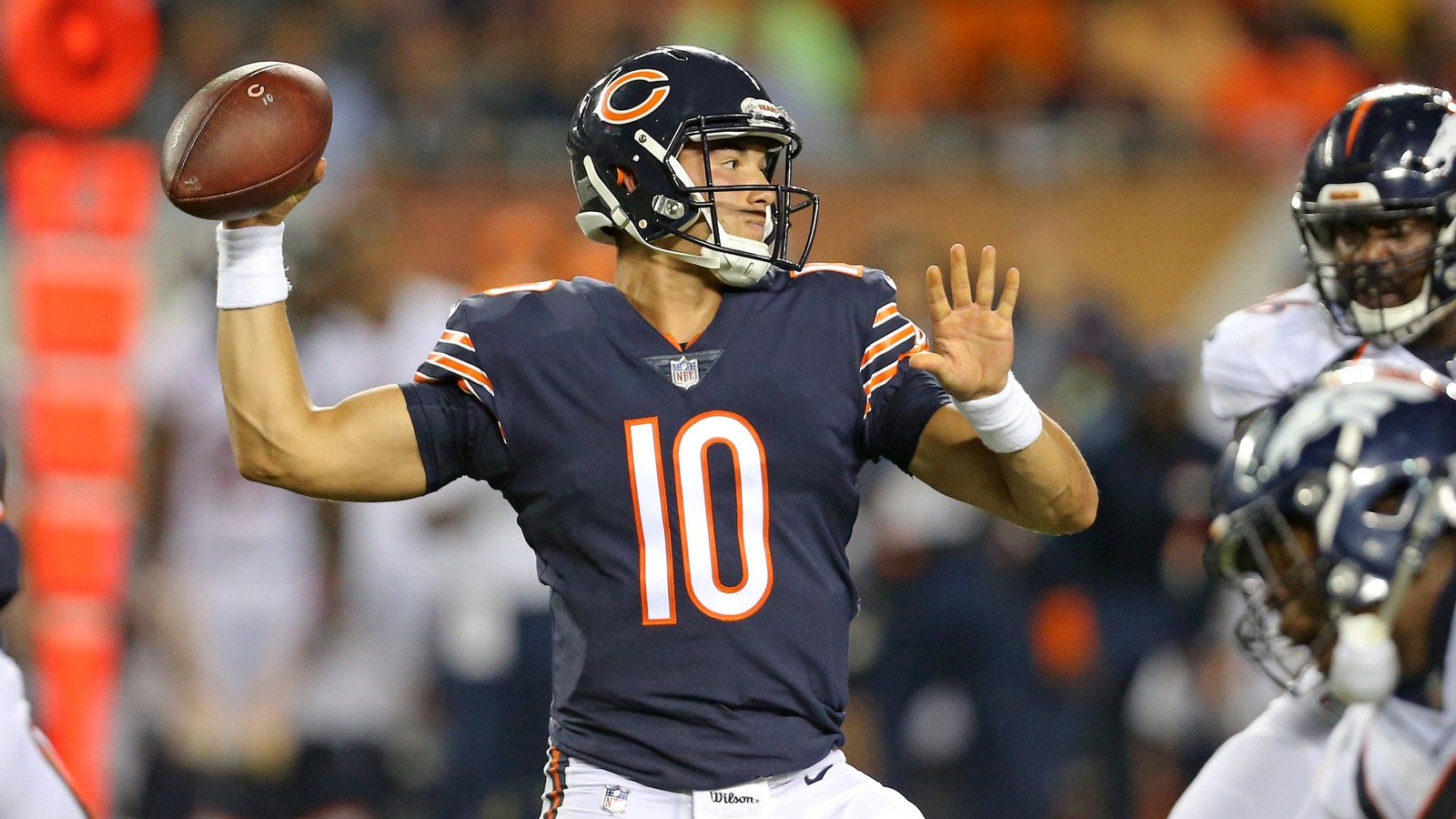 Do the Bears have a quarterback that even their fans will actually like? Maybe. Dennis Wierzbicki-USA TODAY Sports
Do you believe in love at first sight? I fell head over heels in love with new Chicago Bears quarterback Mitch Trubisky Thursday night while watching him play against the Denver Broncos during Chicago's first preseason game.
I know it's only an exhibition game. And I understand he was playing against a bunch of players who will likely go on to careers outside of football when the cuts come. But I know what I saw. The numbers were impressiveâ??15-23 for 166 yards with one touchdown and a quarterback rating of 107.3. He completed the first 10 passes he threw. But it was more than just the numbers. I have never been just a numbers guy. It's when you watch someone play that you get the true picture of what they can do.
For a quarterback who only played 13 games in college, Trubisky was poised behind center and looked like a 10-year veteran. He rolled out and threw on the run. He stepped up in the pocket and hit his target. Hell, he ran for a first down when it was there. He was patient and found receiversâ??hitting them on the numbers. Trubisky looked quick and athletic running the ball. Play-action was a snap for him. He didn't put the ball up for grabs like Mike Glennon did in his first set. In other words, he looked like quarterbacks I have watched and …
Read Original Post at
http://www.yardbarker.com/nfl/articles/mitch_trubisky_looks_like_franchise_qb_in_bears_debut/s1_11773_24524998

Sports Media 101 searches and spiders for news it aggregates from across the web about your favorite sport or sports team. This article is originally posted at another site not affiliated with Sports Media 101. The portion of the article posted here is to provide a sample of the content available at the linked site. Please click the link to read the full article. Sports Media 101 does not claim any ownership to the content and all rights are retained by the original copyright owner.
Tags:
Aaron Rodgers
,
Chicago Bears
,
Denver Broncos
,
Green Bay Packers
,
Jay Cutler
,
Miami Dolphins
,
Mitch Trubisky
,
New England Patriots
,
NFL
,
Tom Brady